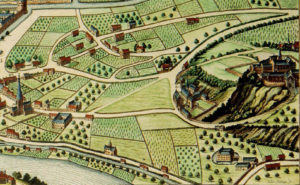 The sanctuary of Saint-Juliana
Saint Juliana lived 50 years in the leprosarium or hospice of Cornillon, at the eastern gate of the city of Liège.
From the time of Saint Juliana in the 12th century until the French Revolution, the leprosarium was probably the largest hospital in Liège, entrusted to two trusteeship: the city council and the prince-bishop. About 70 years after the events of the French Revolution, in 1860, the Carmelites took over the place and developed it remarkably.
In 2017, given the long friendship of  Carmelites and the Clariste sister, the Carmelites handed over the  monestery  to the community of Poor Clares sisters, daughters of St. Clare of Assisi, to whom she was a contemporary of St. Juliana and a devotee of the Blessed Sacrament.